The ART GALLERY | 6255 SW 8 ST. | MIAMI FL. 33144 | 786-487-1992
retratos al carboncillo oleo acrilico etc
PORTRAIT PAINTING FROM PHOTO, 100% HANDMADE BY PROFESSIONAL ARTIST CORAL GABLES FLORIDA USA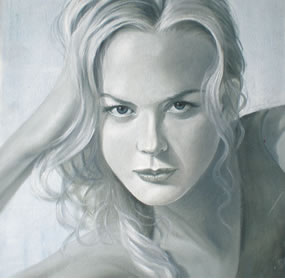 PORTRAIT MIAMI In oil, pastel, charcoal, black and white or color, On paper or canvas. by models's Art Studios

portrait are truly unique. He accentuates and emphasizes eyes, as a manifestation of one's spirit. Eyes are a window to the integrity and soul of the person.
If you wish to send a photograph through email, please keep in mind that the image is sufficiently visible and of good quality. models needs to be able to see the details such as eye color and other features. The largest image possible is preferred.

models also sketches and paints nudes and semi nudes. Contact the artist for prices.
marilyn monroe Oil on canvas Oil Painting colors Portrait, Artist models - Procedures & Fees Prices Head & Shoulders Oil Sketch Head and Shoulders One-Half Figure Three-quarter Figure Full-length Figure Pets - full body Prices are based on limited or less complex backgrounds and are for one figure. Additional figures in the same painting are extra and will be determined on length of figure. There may be an additional charge for specific backgrounds, props or pets in a portrait. These may be quoted upon request or at the time of the first sitting or photographic session. Pricing may vary based on complexity of subject matter. Any travel, lodging, framing and shipping expenses are in addition to the prices listed above.
Scarface RETRATOS MIAMI Convierta sus fotos favoritas en hermosas pinturas…Pinturas 100% hechas a mano RETRATOS al óleo, pastel, carboncillo; negro, sienas tostadas, Sobre, cartón canson, tela Retratos Únicos, models acentúa y pone mas énfasis en la elaboración de los ojos como una manifestación del espíritu, y una ventana al misterio del ser humano en su integridad. Si desea enviar una fotografía vía E-mail puede hacerlo teniendo en cuenta que la imagen sea suficientemente visible de buena calidad, Nuestro objetivo es realizar pinturas al óleo de fotos al alcance de tantos clientes como podamos. Su satisfacción está garantizada. Le enviaremos la pintura de su foto por correo electrónico para permitirle pedir los cambios hasta que se encuentre 100% satisfecho con su retrato, podemos añadir figuras de diferentes fotos en una pintura, podemos cambiar el fondo, eliminar figuras y objetos, crear pinturas a color desde fotos en blanco y negro e incluso hacer pinturas desde fotos dañadas o antiguas. razones principales para elegir para convertir su foto en una pintura: por un artista profesional que crea pinturas de la más alta calidad. Comuniques con models para mas detalles Pinturas al carboncillo desde 120$ Precios de retratos al óleo B/N desde sólo250$ Retratos en colores Óleo(Aceite) sobre tela $600 por una dimensión de 13 x 18 pulgadas $750 por uno dimensión de 20 x 25 pulgadas Se mi desnudos y Desnudos
MARILYN Most of a successful artist's business comes from repeat clients and word of mouth, so models works closely with his clients to ensure satisfaction. He will ask about your wishes and expectations in detail before beginning a project and is happy to make touch ups and changes once finished, to ensure that his work meets with your satisfaction. RETRATOS al óleo, pastel, carboncillo; negro, sienas tostadas, marrones. Sobre, cartón canson, tela Retratos Únicos, models acentúa y pone mas énfasis en la elaboración de los ojos como una manifestación del espíritu, y una ventana al misterio del ser humano en su integridad. Comuniques con models para mas detalles Pecios empiesan a $120 por un Retrato B/N de 16x20 pulgadas Retratos en colores Óleo(Aceite) sobre tela Semi desnudos y Desnudos comunicarse chez@models.com Cell: 786 487 1992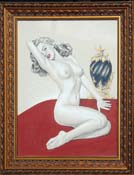 Les portraits de models sont vraiment uniques. Il accentue les yeux, comme une manifestation de l`esprit. Les yeux sont une fenêtre à l' intégrité del` âme de la personne.
Si vous souhaitez envoyer une photographie à travers email, s' il vous plaît pensez que l' image soit suffisamment visible et de bonne qualité. models a besoin de voir les détails tels que couleur de l' oeil et autres traits.
Portraits en couleur a l' huile sur la toile Contactez l' artiste pour les prix.
Models portrait Miami, Portraits artists.
PORTRAITS, a l' huile, pastel, noir et blanc ou colore, Sur le papier ou toile.
Buddha, buda, budismo. Serenidad, Paz, Paciencia,
Selección de trabajos artísticos comerciales osea que tienen mucha acogida en el aspecto decorativo y por su mensaje que invita esta imagen de buda. Juan Mamani busca una visión personalizada a cada trabajo y logra tener el propósito deseado, con talento y la maestría del color, texturas, degradados, pigmentos, que al final observamos una maravillosa obra de arte, que hoy en día decora hogares de dichosos coleccionadores de arte de la Florida y del Mundo.
Lord Buddha
In the sixth century before the Christian era, religion was forgotten in India. The lofty teachings of the Vedas were thrown into the background. There was much priestcraft everywhere. The insincere priests traded on religion. They duped the people in a variety of ways and amassed wealth for themselves. They were quite irreligious. In the name of religion, people followed in the footsteps of the cruel priests and performed meaningless rituals. They killed innocent dumb animals and did various sacrifices. The country was in dire need of a reformer of Buddha's type. At such a critical period, when there were cruelty, degeneration and unrighteousness everywhere, reformer Buddha was born to put down priestcraft and animal sacrifices, to save the people and disseminate the message of equality, unity and cosmic love everywhere.
CONTACT
EMAIL. jumaqui@gmail.com, phone TEL:786 487 1992
Copyright © JumaquiCompany - All Rights Reserved - U.S. Patent JUMAQUI ART STUDIOS - 6255 sw 8 st Miami Fl. 33144 USA © Copyright All images (artwork, pictures and thumbnails) are the © Copyright 1996 - 2018 of Jumaqui and the featured Artists. Any subsequent copying or use of these images in any manner is strictly prohibited. Conception- Creation & referencesJumaqui Mamani
All of these works are copyrighted and deposited in
INPI et la Maison des Artistes PARIS.